---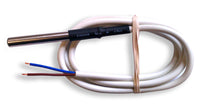 Part #: 10K_8SSP_3_1m_RGD
This 10K Type-II thermistor temperature sensor has a 3" long Stainless Steel Probe with an 8mm diameter and a 1m long cable.  This sensor is used for temperature measurement in industrial and commercial applications.

Cable temperature range: -40C to 105C
Sensor Operating Range -40C to 85C

The sensor uses a heavy duty 20AWG 2-wire stranded cable that is 1m long. The thermistor element is epoxied into the tip of a rugged 8mm diameter Stainless Steel probe, resulting in an assembly that is highly water resistant and responds quickly to changes in the temperature.

A 2" long piece of industrial grade dual-walled heat shrink provides an additional layer of protection and strain relief by creating a tight seal on both the probe and the cable for an inch on either side of the junction point where the cable is inserted into the epoxy in the stainless steel tube.
Cable temperature range: -40C to 105C
Thermistor Accuracy: +/- 0.2C
Sensor Operating Range -40C to 85C
Cable is approx 1m long
Probe Material: Stainless Steel
Probe Dimensions: 8mm diameter, 3inch long
Sensor Type: 10K Type-II Thermistor

Click here for the Thermistor R/T Chart